Generate Thumbnail Images in Java with Thumbnailator library
Tags: Java Thumbnail Thumbnailator
As a daily job of a web developer you usually have the scenario that you need to generate the thumbnail image from a large original image. This take can easily be done by the Thumbnailator library, an easy to use thumbnail generation library for Java. In this Java tutorial we are going to learn how to use the Thumbnailator library.
Thumbnailator home page: github.com/coobird/thumbnailator
Project Dependencies:
Adding below dependencies to build.gradle file if you are using Gradle build tool.
compile group: 

'net.coobird'

,

 name: 

'thumbnailator'

,

 version: 

'0.4.11'
Adding below XML to pom.xml file if you are using Maven build tool.
<dependency>


    

<groupId>

net.coobird

</groupId>


    

<artifactId>

thumbnailator

</artifactId>


    

<version>

0.4.11

</version>




</dependency>
Create thumbnail image from an original image file
package

 dev.simplesolution.thumbnail

;





import

 java.io.File

;




import

 java.io.IOException

;





import

 net.coobird.thumbnailator.Thumbnails

;





public

 

class

 

CreateThumbnail

 

{


	
	

public

 

static

 

void

 

main

(

String

[]

 args

)

 

throws

 IOException 

{


		String originalFileName 

=

 

"D:\\SimpleSolution\\test\\logo.png"

;


		String outputFileName 

=

 

"D:\\SimpleSolution\\test\\logo_120_120.png"

;


		
		Thumbnails

.

of

(

new

 File

(

originalFileName

))


			

.

size

(

120

,

 120

)


			

.

toFile

(

new

 File

(

outputFileName

));


	

}





}
Source and output images: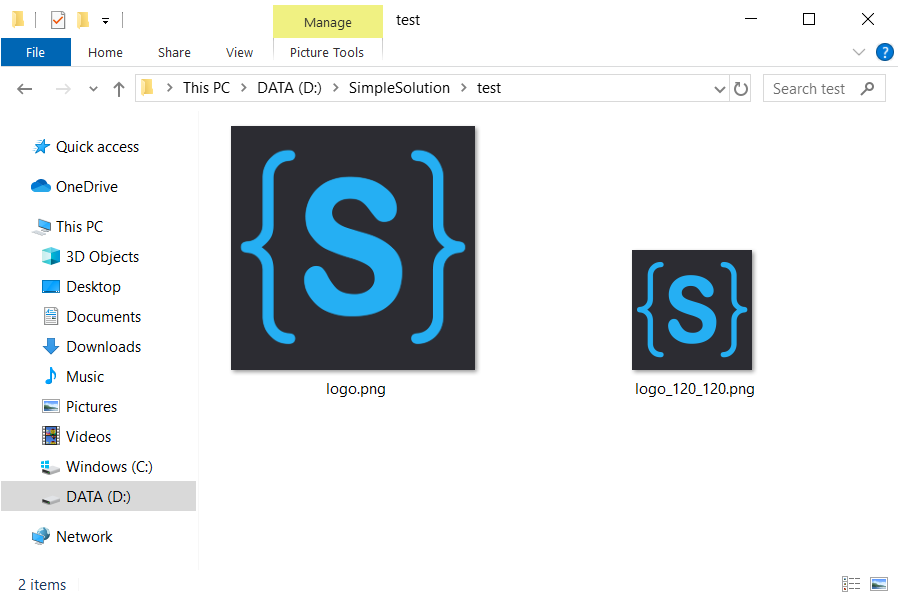 Create thumbnail and rotate thumbnail image
package

 dev.simplesolution.thumbnail

;





import

 java.io.File

;




import

 java.io.IOException

;





import

 net.coobird.thumbnailator.Thumbnails

;





public

 

class

 

CreateThumbnailAndRotate

 

{


	
	

public

 

static

 

void

 

main

(

String

[]

 args

)

 

throws

 IOException 

{


		String originalFileName 

=

 

"D:\\SimpleSolution\\test\\logo.png"

;


		String outputFileName 

=

 

"D:\\SimpleSolution\\test\\logo_120_120_rotate.png"

;


		
		Thumbnails

.

of

(

new

 File

(

originalFileName

))


			

.

size

(

120

,

 120

)


			

.

rotate

(

90

)


			

.

toFile

(

new

 File

(

outputFileName

));


	

}





}
Source and output images: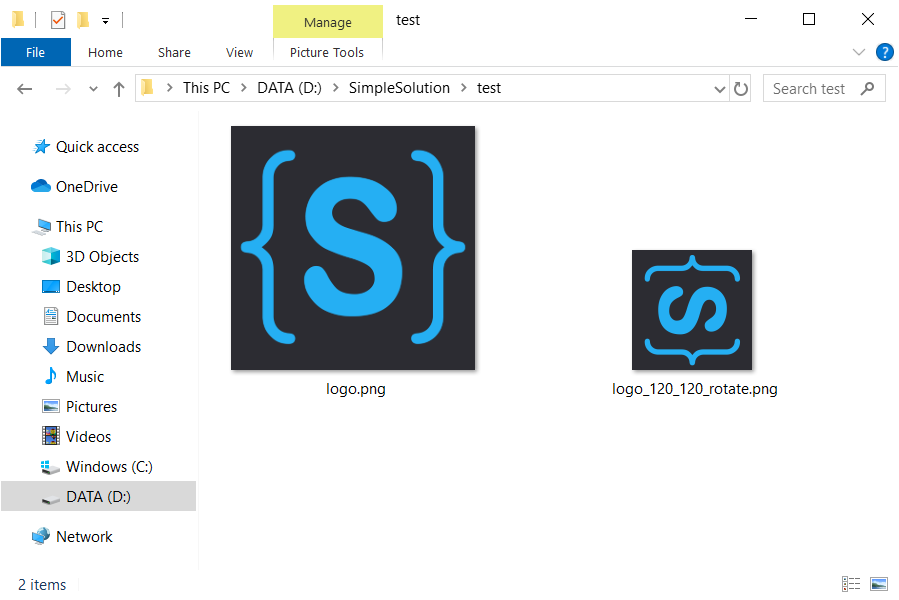 Scale an image
package

 dev.simplesolution.thumbnail

;





import

 java.io.File

;




import

 java.io.IOException

;





import

 net.coobird.thumbnailator.Thumbnails

;





public

 

class

 

ScaleImage

 

{



	

public

 

static

 

void

 

main

(

String

[]

 args

)

 

throws

 IOException 

{


		String originalFileName 

=

 

"D:\\SimpleSolution\\test\\logo.png"

;


		String outputFileName 

=

 

"D:\\SimpleSolution\\test\\logo_scale.png"

;


		
		Thumbnails

.

of

(

new

 File

(

originalFileName

))


			

.

scale

(

0

.

1

)


			

.

toFile

(

new

 File

(

outputFileName

));


	

}




}
Source and output images: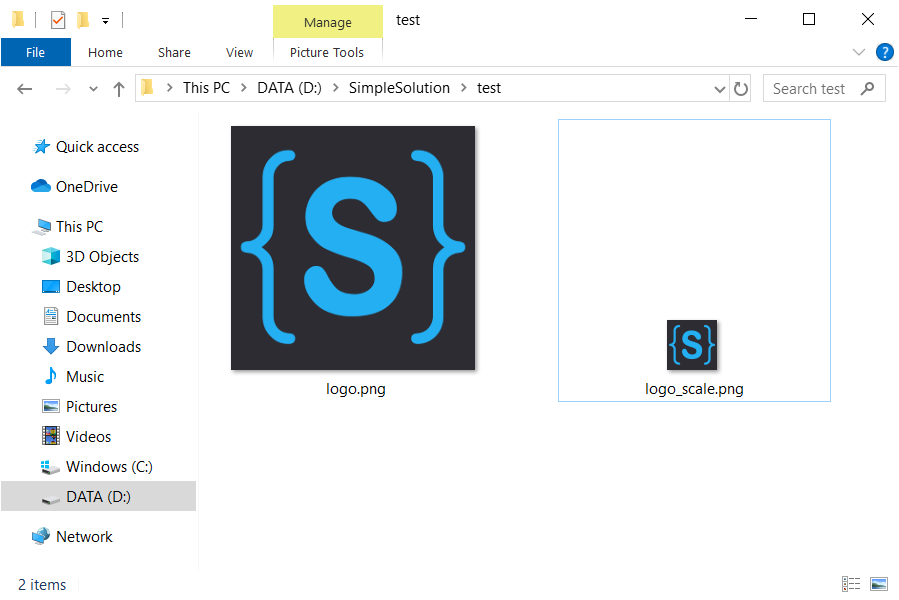 Create thumbnail image with a watermark
package

 dev.simplesolution.thumbnail

;





import

 java.io.File

;




import

 java.io.IOException

;





import

 javax.imageio.ImageIO

;





import

 net.coobird.thumbnailator.Thumbnails

;




import

 net.coobird.thumbnailator.geometry.Positions

;





public

 

class

 

ThumbnailAndWatermark

 

{


	
	

public

 

static

 

void

 

main

(

String

[]

 args

)

 

throws

 IOException 

{


		String originalFileName 

=

 

"D:\\SimpleSolution\\test\\sample.png"

;


		String watermarkFileName 

=

 

"D:\\SimpleSolution\\test\\watermark.png"

;


		String outputFileName 

=

 

"D:\\SimpleSolution\\test\\thumbnail_watermark.png"

;


		
		Thumbnails

.

of

(

new

 File

(

originalFileName

))


			

.

size

(

200

,

 200

)


			

.

watermark

(

Positions

.

BOTTOM_RIGHT

,

 ImageIO

.

read

(

new

 File

(

watermarkFileName

)),

 0

.

5f

)


			

.

toFile

(

new

 File

(

outputFileName

));


	

}




}
Source and output images: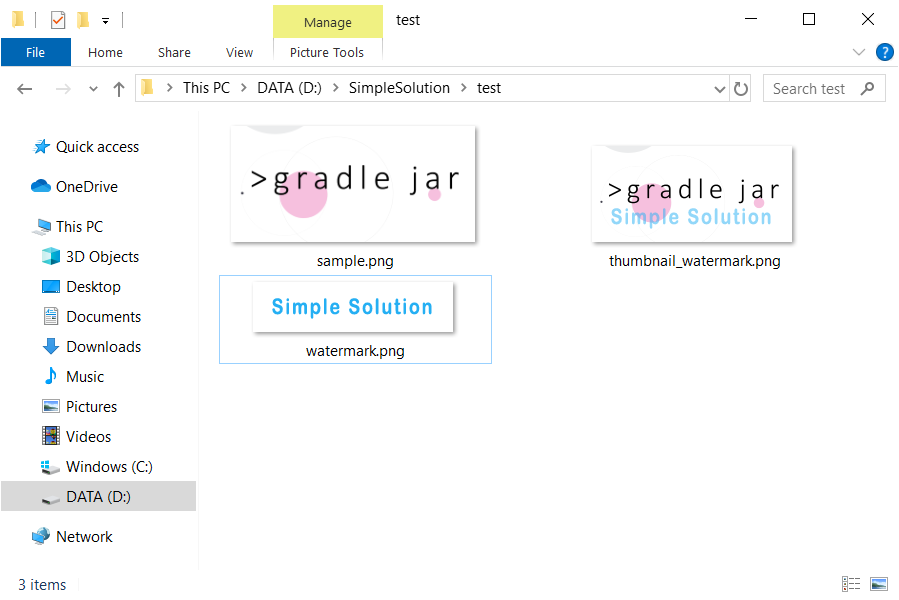 Create thumbnail for multiple files
package

 dev.simplesolution.thumbnail

;





import

 java.io.File

;




import

 java.io.IOException

;





import

 net.coobird.thumbnailator.Thumbnails

;




import

 net.coobird.thumbnailator.name.Rename

;





public

 

class

 

CreateThumbnailMultipleFiles

 

{


	
	

public

 

static

 

void

 

main

(

String

[]

 args

)

 

throws

 IOException 

{


		String

[]

 inputFiles 

=

 

new

 String

[]

 

{


				

"D:\\SimpleSolution\\test\\logo.png"

,


				

"D:\\SimpleSolution\\test\\sample.png"


		

};


		
		File outputDirectory 

=

 

new

 File

(

"D:\\SimpleSolution\\output"

);


		
		Thumbnails

.

of

(

inputFiles

)


			

.

size

(

120

,

 120

)


			

.

toFiles

(

outputDirectory

,

 Rename

.

NO_CHANGE

);


	

}





}
Happy Coding 😊